………………………………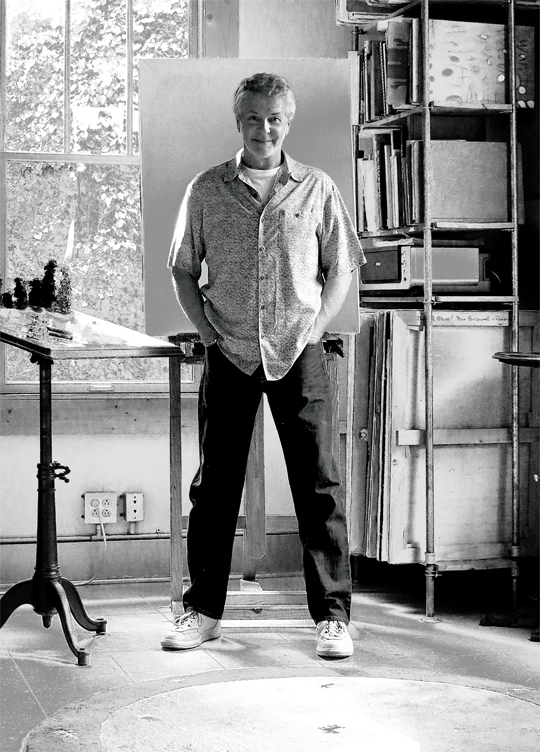 ……………………………….
Farmland, beaches, swamps and creeks
Cows and corn and cotton
An odd little boy is out of place.
He dreams
Who paints the sky?
He leaves
but not far enough
He dreams
Who cares?
He does.
He paints the sky,
Lucky little farm boy.
The following is a quote from
Informed Collector, Aug. 6, 2012 on Ron Griswold
A 21st century Modigliani comes to mind. As a master of oil painting, his modern choices make his art remarkable. Elongated, exaggerated body parts, unusual colors, selection of subject matter and how his subjects appear on his canvas allcombine to create tantalizing hints of wonderment, mystery and pure evocation of subconscious elements that haunt us all.
The following is a quote from Cleveland Scene Aug. 15, 2014
Worthy of Gold…….
Posted By Joseph Clark on
Fri, Aug 15, 2014
Florida painter Ron Griswold…... contributes sketches and oils on panel with a simple but effective palette of blue, cream and several shades of flesh. The men Griswold paints are always in motion—diving, tumbling, boxing or dancing. Movement through space is captured by flesh-toned smudges left behind by the clear-lined limbs, or ghostly after-images of the whole person. …….
The bodies Griswold paints are beautiful not only for how they look, but because of what they can do; and what they do is an expression of admirable qualities, namely dedication to athletic perfection. The subjects are appreciated as full persons, not diminished but honored by their nudity.

Griswold's subjects are of a moment and an era; if they weren't frozen in paint, in another second they would have stuck the landing or landed a punch, and then went on with their 21st century lives.

The following is an interview featured on Advocate.com
Artist Spotlight: Ron Griswold
Ron Griswold is an accomplished artist whose work is in many private collections around the globe. He is mostly self-taught, and his style reflects his vision of the world. Born, raised, and still living in the panhandle of Florida,he worked as an editorial artist at the local newspaper for many years before giving it up to teach painting at the region's state college. He then moved on to a full-time career as an artist.

He sells work from his website, RonGriswold.com, and also from a long list of collectors.

The Advocate: How did you come to be an artist?
Ron Griswold: I was born a romantic dreamer. I remember wondering who painted the clouds in the sky, and when I died I wanted to go to heaven and do it. However, the environment that I was brought up in was very antithetical to art of any kind. It's a wonder I became an artist at all. I was lucky to have a strong defiant streak. Also, I was very naive, so when the university asked me what I wanted to major in I said art. I thought artists were magical, and why not go for broke?

I said I was naive, but I'm also very determined and never give up. So here I am today, living with a decision made without any forethought and not regretting it one bit.

What catches your eye?
I like creativity and I like accomplishment. I take notice if something is done so well that I'm jealous or if the thought was so good that I can't believe I let someone else think of it first.

Tell us about your process or techniques.
I rarely start a work the same way twice — there are too many techniques out there to constrain myself to starting the same way twice. One major aspect of a work to me is, does it stretch my knowledge of painting? Each work is a new problem to be solved. I usually do a couple of drawings exploring the image. It gets it into my mind and I can start making decisions how to express my feelings about the subject. How to put process and technique to work expressing thoughts. I like to think that I'm technically experimental.

How do you choose your subjects?
I basically paint what is in front of me. I paint in several different genres. Each explores a different part of my journey. So I choose subject matter as it relates to the direction I feel the need to explore. The females come from a lot of personal mythology. With florals, I paint what is blooming in the yard and try to explore the genius of beauty. For the nudes, the figure has to have a sensuality that is attuned to the way I express the sensuality of paint. The dolls explore the line where life isn't explained just by having a breath. The landscapes have to be timeless so I can escape to them.

What artists or writers, etc., do you feel influence your work?
I taught myself to paint by coping old master works. The artists I preferred to study were Tiepolo, Chardin, Inness. They were great painters. I was influenced by the approach of the modern masters Picasso and Warhol and Duchamp. I try to avoid any contemporary influence in my work. I like my art to be about my reaction to the world.

And tell us about the red forearms and hands?
I don't know what to say about the red arms and hands. Mostly I think it's interesting what others think of them. The most interesting read I've heard was a guy stated that I was raised on a farm (which is correct) and that I had a fetish for the tan lines of farmhands, which may or may not be true.

More formally, when I begin a figure study I put down red in certain areas first, the cheeks, the ears, the nose, fingers and knuckles, a bum, knees, elbows, forearms, the back, and sometimes the chest. I think of it as putting down life. I then paint over that, but it leaves a sense that there is blood beneath. To me, the color red is strength, especially in a male figure, so sometimes it just seems correct to emphasize the red.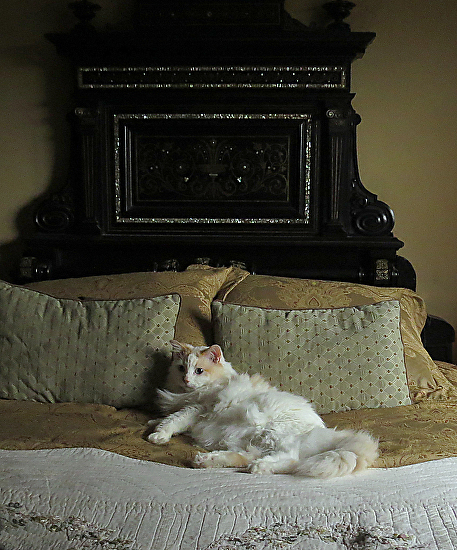 This is Shine
This is Shine's bed
He share's it with me at night
I can sleep to the left
or
I can sleep to the right
---------------------------------------------------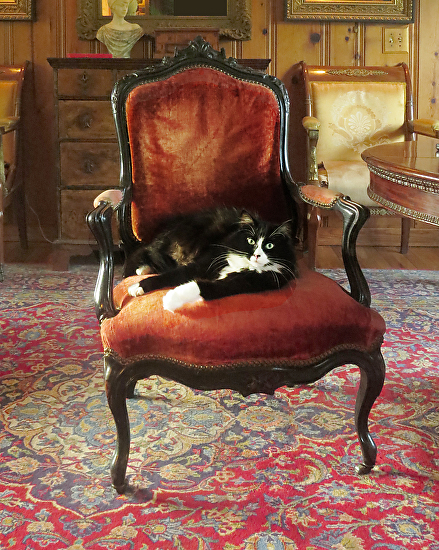 This is Zipper
This is his Chair
Enough said.




The following is an interview for the magazine
'The Art of Man'
Summer 2010


This painter of male forms was raised in the rural south. It was a very southern gothic up bringing. The only exposure to art was in a small paper back book about greek mythology which I stayed up at night and studied page by page. Somehow I knew I would be an artist. It seemed to be the loftiest goal a person could strive for. It was a romantic world view.
Upon graduated from the local university with a BA in Studio Art. I was optimistic and naive. I worked for several years as a technical illustrator in the civil service. Then went to work for the local newspaper, The Pensacola News Journal as an editorial artist. This was my first real opportunity to be creative on a professional level and I really liked working in the journalism field. While working for the News Journal I started teaching painting at Pensacola Junior College. Teaching focused my mind around the process and I was able to listen to myself speak about it and it clarified my personal process to me.
I have managed over the last several years to keep myself employed by painting.



2. Why do you paint/draw/sculpt the male form?

Painting the male form is simply one of the genres that I am comfortable with.
First of all, the human form is a challenge to draw and paint and I like a challenge.
Second The female form has so much history. When I work with the male form I can get closer to a personal expression without influence.
Third I use the figure studies to free my hand. Having a general tendency to get really tight. With the figure studies I allow myself to be loose. They are probably closer to drawing than painting, which is the edge I explore a lot when I'm working with the figure.


3. Have you encountered resistance or acceptance in having the male figure in your work?

Both. However there are a lot of people that are happy that the male form is being seriously explored as a subject. A market is definitely there, maybe a bit pent-up even.


4. Do you see a change in the resistance or acceptance of the male figure as subject?
Well Yes. Times change. There are a lot more artists working seriously with the male form today. Back when I first started working with the male figure ebay had just started up and that is where I sold my first figure works. There were only a couple of artists selling on ebay at the time and there is a better than fifty fifty chance that I was the first to discover the "male nude" category. Now there are a lot of good artists offering work there. So things move forward and a general acceptance is the track we're on.


6. Where do you hope to see your work going in 10 or 20 years?

I approach artwork as a learning experience. Each new project, each genre is engaged because it forwards my development as an artist. Having said that I really do enjoy the way I paint and draw today. But ten years is a lot of working and progressing, so in ten years I'll be interested to see how my work has changed.
Career wise, I hope my work makes its way into some of the best collections.

7. Have you always worked in the style you do now?
I certainly think my work style has changed. Especially my figurative work, which gets looser as time goes by. But other people say they can tell if a painting is a 'Griswold' no matter how early the work or in what genre. So evidently I have a recognizable personal style. Even when I'm trying to experiment stylistically.


8. Tell me something people might not know about your work or you?

My figurative works are only a portion of the images I paint. I have ongoing series in a lot of genres. In some circles I'm even known as a potter.

9. Who would be your inspirations?

When I first started painting Vermeer was a god, but so was Leonardo, Rubens, Titian, Michelangelo, Rembrant and lot of others. Their vision was so elegant, so dramatic, so appealing to a young artist from the sticks. I taught myself to paint by copying their works over and over, especially Tiepolo whose drawing and painting skills I admire greatly. I began to appreciate a good painter and there are many throughout history. George Inness was another that taught me a lot especially his later works. I tend to be inspired more by paint handling than subject matter. However Picasso and Warhol have made their impressions also.

10. Whose work do you admire today?

Those that I admire today are those that show persistence and personal vision. I tend to overlook the 'art-school' artists and pay attention to those that just can't help but paint.
In the Studio…………...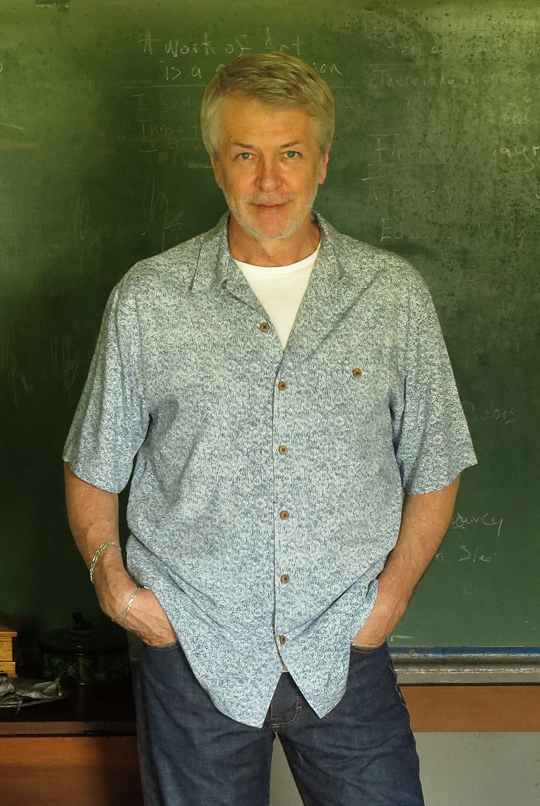 My studio is a Julius Rosenwald School.
…………………………………………..